Disclaimer: Applicable rules and regulations may be modified or updated from time to time, and shall be binding as of the date published. Students and applicants are bound by the terms in effect at the time of any event or occurrence. The online version of the student handbook shall be the official current version of applicable rules, regulations and procedure, and can be found on the Dean of Students website in ERNIE.
Welcome From the Worldwide Chancellor
To our students,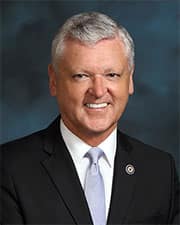 Please allow me to congratulate you on being part of Embry-Riddle Aeronautical University. Your decision to become a student here reflects your commitment and dedication to achieving success both academically and professionally.
Our strengths are many, but the following stand out:
Commitment to student service and success
Commitment to academic quality
Commitment to innovation
Commitment to the military community
Thanks to the work and support of our faculty and staff, our alumni and students, and so many people in the communities we serve, Embry-Riddle Worldwide stands ready to help you achieve your educational and career goals.
John R. Watret, Ph.D., FRAeS
Chancellor, Worldwide Campus
---
Welcome From the Dean of Students Office
Whether this is your first college experience, or you are returning to enhance your skills, our office is here to support you and help ensure you are positioned to achieve your very best.
We support students by safeguarding our inclusive global community while inspiring affinity for the University. We achieve this by:
Welcoming students to eUnion, our virtual community
Supporting your wellbeing through our virtual wellness services
Offering an Ombudsman
Providing students with disabilities customized accommodations
Providing a centralized grievance process
Visit the Worldwide Dean of Students ERNIE page to learn more! We are excited you are here and excited to be a part of your educational journey.
---
Worldwide Campus
Embry-Riddle Aeronautical University
1 Aerospace Boulevard
Daytona Beach, FL 32114
Have a Question?
Email
Email us with a question