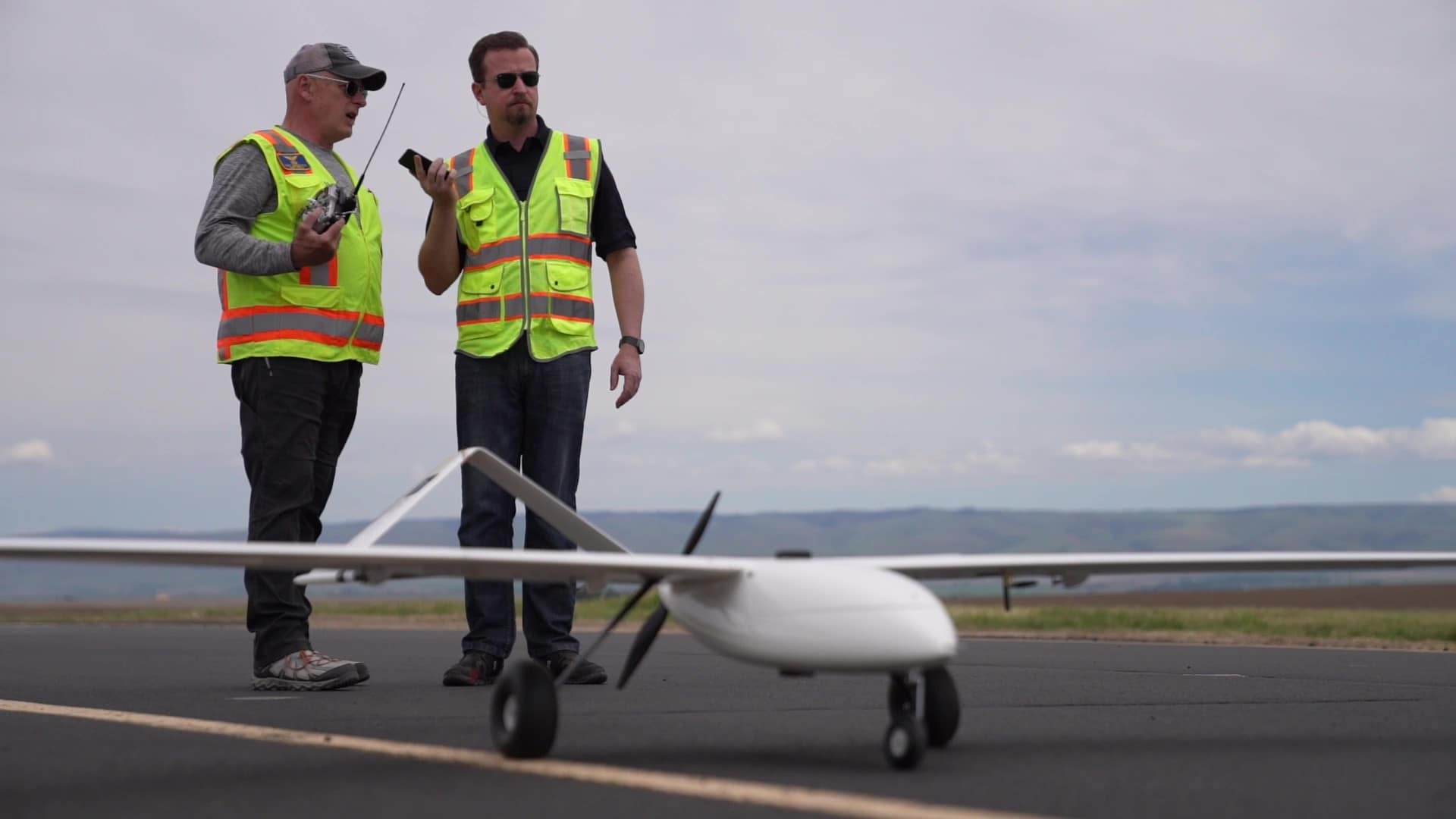 Play Video,
WW Dept Flight
The Embry-Riddle Worldwide Campus began flight operations in September 2014, specializing in commercial, off-the-shelf, small uncrewed aircraft systems (sUAS). Since then, the inventory has grown to over 100 aircraft encompassing all major manufacturers and types. These aircraft are augmented with the latest sensors and software including: infrared, multi-spectral, and hyper-spectral cameras, LIDAR, and chemical identification sensors. The Department of Flight (DoF) has partnered with several aircraft, sensor, and software manufacturers and leverages these partnerships to provide students the latest technology and support available.
The DoF is a strong advocate for UAS flight safety and prides itself on knowing the aircraft and software, adhering to local and national regulations, providing a rigorous and demanding qualification program, and instilling a just safety culture throughout the UAS operational space. The DoF was the first organization in the world designated as an Association for Uncrewed Vehicle Systems International (AUVSI) Trusted Operator Program TM (TOP) training provider and the first to obtain TOP Level-3 Instructor qualification.
The DoF faculty are all FAA-licensed crewed pilots with military flight backgrounds. These personnel have traveled the world teaching academic and hands-on training in Singapore, Germany, the United Kingdom, the Bahamas, India, Borneo, Brazil, and across the United States. Through Embry-Riddle Worldwide's network around the globe, the DoF is able to bring UAS degree and professional development courses to a wide-ranging demographic both in the classroom and through our online programs.
The mission of the Department of Flight is to provide the aviation professionals of tomorrow with the knowledge, skills, abilities, and judgment necessary to succeed in the global aviation community while providing students, faculty, and staff uncrewed assets, training, and oversight for research application. The department achieves this mission by:
Serving the student body, the department, the college, the campus, and the external community in support of the University's overall mission
Investing in and maintaining an exceptional safety culture
Recruiting, training, and using top-quality instructional staff
Infusing state-of-the-art flight systems, sensors, and software, into the curriculum and campus
Employing scenario-based training to develop advanced aeronautical decision-making
Providing a well-structured program to sustain the high level of standardization and professionalism demanded by the industry
Using quality management techniques to continuously enhance the flight program
Collaborating with industry leaders and aviation experts worldwide
Students also can register for the
Small Uncrewed Aircraft System Operation minor
which will provide students with the knowledge, skills, and abilities (KSAs) specific to the safe, responsible, and effective operation and application of small uncrewed aircraft systems (sUAS). The goal is to give students an opportunity to work towards a sUAS operator certification within the framework of the university's academic setting. Students declaring the sUAS Operation Minor or registering for courses within it must be U.S. citizens or permanent residents and must be physically located within the U.S. when registering for and while participating in the UNSY 435 course.
College of Aviation
Embry-Riddle Aeronautical University
1 Aerospace Boulevard
Daytona Beach, FL 32114