Online Technology for the Modern Student

Since 1971, Embry-Riddle Aeronautical University — Worldwide has continued to lead the way for distance and online learning platforms. The days of exchanging lessons and homework by mail have been transformed by virtual classrooms, labs and chats.
Through award-winning advancements in technology and educational methods, Embry-Riddle Worldwide's three academic colleges — Aeronautics, Arts and Sciences, and Business — offer a variety of online degrees that span from associate to graduate-level courses, certifications, and professional programs.
With decades of experience in distance learning, we are setting the standard for world-class online education by focusing on engagement and services critical to student success. Technology has given our faculty and advisors the ability to interact with students in new and exciting ways, and we're constantly looking to improve the overall student experience.
EagleVision
EagleVision is a virtual classroom that provides a campus learning experience from anywhere. The technology combines web video conferencing with a virtual learning environment to enhance real-time collaboration. Students communicate directly and instantly with professors and classmates, similar to a university classroom setting.

Embry-Riddle Worldwide offers three modes of course delivery — EagleVision Classroom (classroom to classroom), EagleVision Home (faculty and students participate from their home or another remote location), and a blend of EagleVision Home and Classroom.
EagleVision Classroom includes scheduled online times and real-time interaction with other students and professors.
EagleVision Home offers all of the benefits of EagleVision Classroom from the comfort of your home, office, or any location with a computer and internet connection.
Embry-Riddle's online programs meet the highest standards of academic excellence, and they are also remarkably accessible to all students – from first-generation university students to military members transitioning back into civilian life.
Canvas
Canvas is an educational platform designed with the online teaching and learning experience in mind.
The cloud-based system is viewable on any web browser, computer or mobile device, and allows for engagement and collaboration through video, audio, integrated media recorder, text, and discussion boards. Canvas also offers a free mobile app.
Canvas makes staying connected to your courses, faculty, and other students easy. Students choose how to receive notifications and course updates - email, text message or social media.
eUnion

Worldwide students, faculty and staff can access eUnion, a one-of-a-kind virtual community, using their ERNIE credentials, either online or through the eUnion app.
eUnion members can build their own profiles to share information such as professional backgrounds, hobbies and skills. Another exciting facet of eUnion is the ability to create and join groups. Groups are where the social connection happens. Users can post comments, pictures, create polls, and respond to each other in group discussion feeds.
Members will also have access to a whole new portal with direct links to Canvas and other tools in ERNIE.
Virtual Aerial Robotics Lab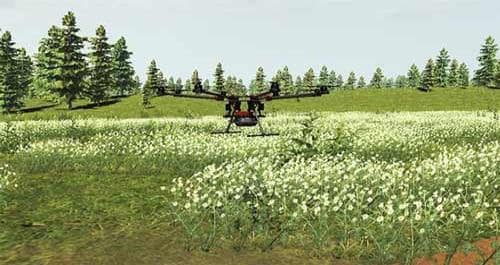 The Virtual Aerial Robotics Lab is the latest enhancement for students enrolled in engineering, aeronautics and unmanned aircraft systems (UAS) courses.
In the virtual lab, students build UAS systems, test flight capability, and analyze results. By simulating a flight, students can experiment, assess how well their UAS performed and redesign the system for optimal results.
Virtual Crash Lab
The Virtual Crash Lab lets students gather and submit data required for accident investigations, including survival factors, human factors, aircraft structures, aircraft systems, operations and maintenance.
Working with Pinnacle Solutions and Unity, Embry-Riddle Worldwide faculty and staff integrated gamification into course curriculum. Students examine an aircraft accident scene, document evidence, and even interview survivors. Faculty can then assess student knowledge and comprehension by examining the evidence collected and explanation of findings.
---
The virtual crash lab provides a unique, stimulating and enjoyable environment for students to practice accident investigation techniques and for faculty to evaluate students on their understanding and application of investigative technologies.