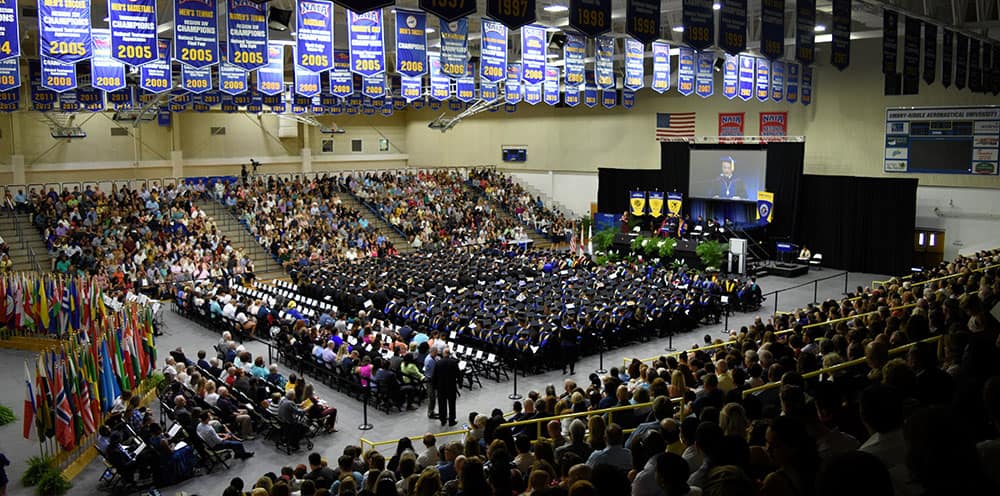 Congratulations, graduates! We are so excited to have the opportunity to celebrate you and your accomplishment in earning your degree from Embry-Riddle Aeronautical University.
For Graduates participating in the Worldwide Commencement Ceremony held in Germany.
We look forward to celebrating you on Saturday, September 23rd at 2pm for Commencement. The ceremony will take place at The Aircraft at Burghof - AM Weiher 6, 63303 Dreieich/Dreieichenhain, Germany
Getting There:
The Aircraft is an hour and a half away from Ramstein Air Base, 20 minutes from Frankfurt International Airport (FRA). The venue has a parking lot. Overflow public parking is available across the street.
Staying There:
Lodging is at your own discretion. Options include base lodging, hotels near venue, or hotels near Frankfurt.
Commencement Schedule:
Refreshments will be available prior to the ceremony beginning at 12:30. There are a few cafes in the town of Dreieichenhain where families & guests can dine. Please eat before arrival or plan accordingly.
Report to the Registration Table no later than 12:00 noon for robing. Designated ushers will be present to assist! The ceremony begins at 2:00 PM. The livestream of the ceremony can be found at the following link for loved ones unable to attend in person. Due to venue capacity & safety regulations, we ask that students bring no more than 4 guests. Additional guests will be seated in the overflow lounge next to the ceremony hall where the ceremony will be live streamed: https://www.youtube.com/c/erauworldwide/live
Regalia:
Regalia fees are included in your graduation application fee. Reserved regalia will be ready for you at the venue on graduation day.
Dress:
Business/Civilian attire (No military attire permitted for security reasons.)
Photography:
ERAU will provide a professional photographer to take individual and family graduation photographs at no cost. Photographs will be made available for download. A group photo will also be taken after the ceremony at the designated location (follow ushers).
The ceremony lasts approximately 1 hour. There will be a reception afterwards with canapés and refreshments. We encourage you to visit the Career Services & Alumni Information tables.
Ceremony Dates, Locations and Deadlines
Frankfurt, Germany
When: Saturday, Sept. 23, 2023
Where: The Aircraft
Deadline to Register: July 1, 2023
Order Cap & Gown: July 1, 2023
To RSVP, email INTLHQ@erau.edu.
Dallas, Texas
When: Saturday, Oct. 14, 2023 at 6 p.m.
Where: Frontiers of Flight
Deadline to Register: Sept. 1, 2023
Order Cap & Gown: Sept. 1, 2023 (Rush Shipping Deadline: Sept. 8, 2023)
Tokyo, Japan
Contact Office of the Registrar
Office of the Registrar - Worldwide
Embry-Riddle
Aeronautical University
1 Aerospace Boulevard
Daytona Beach, FL 32114 US
Phone: 866-393-9046 Option 2
Fax: 386-323-5078
Email:
wwgrad@erau.edu