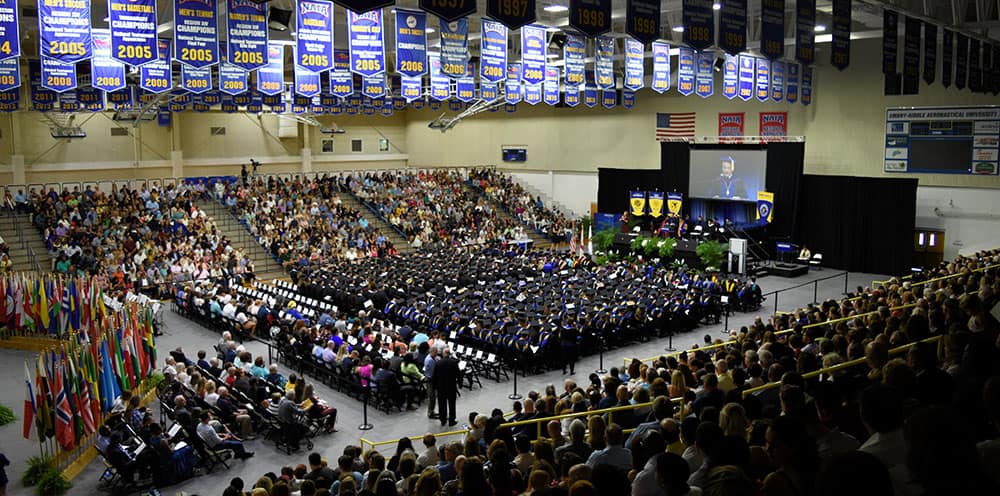 2021 Worldwide Spring Virtual Commencement Ceremony
Saturday, June 5, 2021 1 p.m. EDT
Embry-Riddle Aeronautical University Worldwide will host a Virtual Commencement Ceremony to celebrate Worldwide graduates for Spring 2021. The ceremony will be presented virtually on Saturday, June 5 at
1 p.m. EDT. An email from wwgrad@erau.edu will be sent with guidance on how to register to participate. This invitation will include information about how to submit a photo and how to add name pronunciation for this virtual event. All 2021 graduates will be recognized during the ceremony by College, and a personalized graduation slide will be displayed as graduate names are read.
IMPORTANT DATES
May 3, 2021: Last Day to apply for graduation to be included in the Virtual Ceremony
May 10, 2021: Submit photo and name pronunciation through the link provided in the email from wwgrad@erau.edu. Masters students must be degree complete by May 10 in order to participate in the ceremony.
May 12, 2021: Last Day to order your regalia for it to arrive in time for the Virtual Ceremony
Ongoing: Post your celebratory photos using #ERAU2021Grad
We look forward to celebrating our students and their accomplishments, and we encourage inviting family and friends to watch and celebrate this wonderful occasion! We also encourage graduates to post pictures of their virtual commencement celebration using hashtag: #ERAU2021GRAD. Additionally, following the commencement ceremony, graduates will have access to their individual slides. These can also be accessed on the Virtual Commencement Celebration website.
Check back often, as details regarding the Virtual Commencement Ceremony and frequently asked questions will be updated as they are finalized!
*For the safety of our graduates and their families, there will be no in-person participation.
Contact Office of the Registrar
Office of the Registrar - Worldwide
Embry-Riddle
Aeronautical University
1 Aerospace Boulevard
Daytona Beach, FL 32114 US
Phone: 866-393-9046 Option 2
Fax: 386-323-5078
Email:
wwgrad@erau.edu