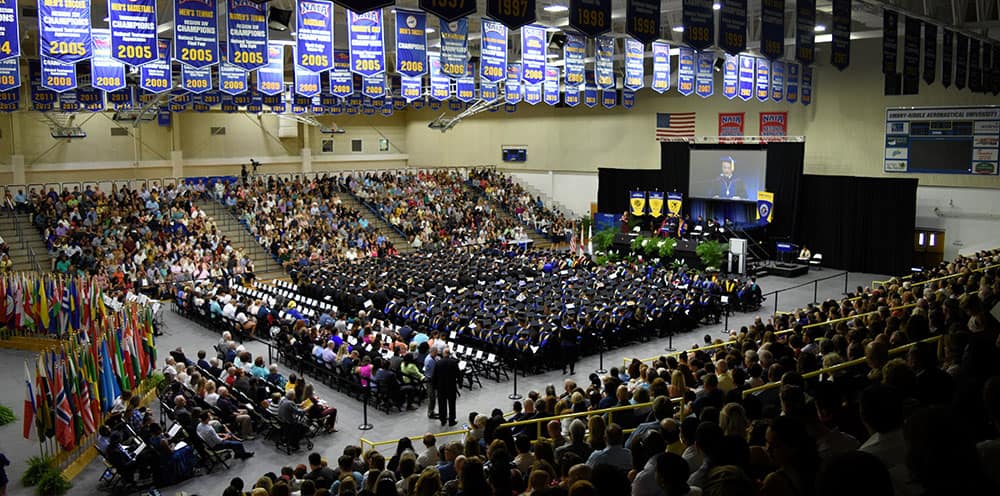 Congratulations, graduates! We are so excited to have the opportunity to celebrate you and your accomplishment in earning your degree from Embry-Riddle Aeronautical University.
Please take note of this short list of items to ensure you are prepared for the ceremony:
All graduates must register to attend a graduation ceremony.
Regalia must be purchased by each graduate. It is the responsibility of each graduate to purchase and bring their own regalia to the ceremony. This includes the cap, gown and tassel for undergraduate students and cap, gown, tassel and hood for graduate students. Please visit Herrf Jones to order your regalia.
If applicable, Honor Cords and Medals of Distinction will be provided by the university upon check-in at the venue.
Check-in will begin 1.5 hours prior to ceremony start time, and we ask graduates to come to the venue to check-in, receive an individual reader card, and pick up Honor Cords or Medals of Distinction as applicable.
The safety and wellbeing of our graduates, guests, faculty and staff is of upmost importance. We will be following all CDC and State regulations as they pertain to each venue.
We look forward to celebrating you and your accomplishment in earning your Embry-Riddle Aeronautical University degree!
Ceremony Dates, Locations and Deadlines
Daytona Beach, FL
When: Hooding Ceremony, Friday, April 28, 2023; Commencement Ceremony, Saturday, April 29, 2023
Where: Embry-Riddle Aeronautical University, ICI Center
Deadline to Register: March 17, 2023
Order Cap & Gown: March 17, 2023
Pensacola, FL
When: Saturday, May 13, 2023
Deadline to Register: March 31, 2023
Order Cap & Gown: March 31, 2023
San Diego, CA
When: Sunday, Aug. 6, 2023
Where: The USS Midway Museum
Deadline to Register: June 23, 2023
Order Cap & Gown: June 23, 2023 (Rush Shipping Deadline: June 30, 2023)
Seattle, WA
When: Saturday, Sept. 9, 2023
Where: The Museum of Flight
Deadline to Register: July 28, 2023
Order Cap & Gown: June 28, 2023 (Rush Shipping Deadline: July 21, 2023)
Frankfurt, Germany
When: Saturday, Sept. 23, 2023
Where: The Aircraft
Deadline to Register: Aug. 12, 2023
Dallas, TX
When: Saturday, Oct. 14, 2023
Where: Frontiers of Flight
Deadline to Register: Sept. 1, 2023
Order Cap & Gown: Sept. 1, 2023 (Rush Shipping Deadline: Sept. 8, 2023)
Contact Office of the Registrar
Office of the Registrar - Worldwide
Embry-Riddle
Aeronautical University
1 Aerospace Boulevard
Daytona Beach, FL 32114 US
Phone: 866-393-9046 Option 2
Fax: 386-323-5078
Email:
wwgrad@erau.edu