The Advantages of Applied Science at Embry-Riddle
Whether you're focused on weather patterns, human behavior, technology or aerospace, there's a research component that contributes to the advancement of science and achievement, and that's where applied science degrees from Embry-Riddle's Worldwide Campus can make the difference.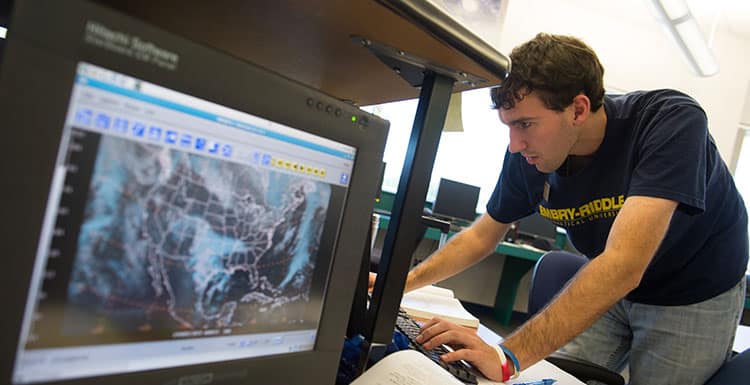 Designed for ever-inquisitive minds, analytical thinkers and problem solvers, our 18 bachelor's, master's and doctoral programs in Applied Science are deeply rooted in research, teaching key fundamentals that can be applied to any industry.
No matter which level or program you select, you'll be exposed to high-level research using high-tech labs and emerge with a highly regarded education.
Throughout your studies, you'll have the chance to work on group projects and research alongside fellow students and accomplished faculty. There also are networking opportunities that involve meeting fellow students from other schools who may be researching the same subject matter.
You can also take advantage of many clubs and organizations related to your degree program to enhance your experience and add to your résumé. Through it all, you will learn from and work alongside accomplished faculty members with vast experience and deep connections to the industry.
What are Applied Science degrees?
Applied Science programs at Embry-Riddle's Daytona Beach Campus teach you the basic tenants of scientific research as they relate to specific fields and disciplines. They explore how research is conducted and applied to solve real-world problems, giving you a strong foundation for a rewarding STEM career.
What are the Applied Science degrees at Embry-Riddle's Daytona Beach Campus?
At the bachelor's level, we offer Aerospace and Occupational Safety, Aerospace Physiology, Air Traffic Management, Astronomy and Astrophysics, Communication, Computational Mathematics, Computer Science, Engineering Physics, Human Factors Psychology, Interdisciplinary Studies, Meteorology, Space Physics and Spaceflight Operations. We also have master's degrees in Engineering Physics, Human Factors and Occupational Safety Management, with doctoral programs in Engineering Physics and Human Factors.
Where can I work with an Applied Science degree?
Students who have graduated with an Embry-Riddle Applied Science degree have gone on to careers at companies and agencies like The Boeing Company, NASA, General Motors, Gulfstream, Northrop Grumman, Honeywell, Lockheed Martin and the Department of Defense.
Applied Science Degrees & Programs at Embry-Riddle's Daytona Beach Campus
Are you already working, looking for a career change or aiming for your first professional experience? Embry-Riddle's Daytona Beach Campus has Applied Science degree programs suited to all research-driven students.
You could earn your Bachelor of Science in whichever applied research field best suits you. There's even an accelerated combination where you can earn the Bachelor of Science in Human Factors Psychology and the Master of Science in Human Factors in five years.
Whether you want to learn about mathematical formulas and applications, or the way humans interact with technology, there is a degree program that can propel you into a fulfilling career.
Learn more about the full range of Applied Science degree programs at Embry-Riddle's Daytona Beach Campus.
Review our non-credit continuing education offerings at proed.erau.edu.
Students from applied science disciplines often work for distinguished companies, such as The Boeing Company, NASA, General Motors, Gulfstream and Lockheed Martin. Your education and career goals will be your guide, but you can also expect to find an abundance of challenging and rewarding opportunities to encourage your learning.
Your Applied Science degree from Embry-Riddle's Daytona Beach Campus will open doors at groundbreaking companies around the globe.
In a 2022 survey of U.X. Professionals, those with a bachelor's degree report earning nearly $50,000 more than those with a high school diploma or GED.
Our faculty and students are actively involved in research using applied sciences. Read about how they're positively impacting industry in some recent projects below.
Learning Environments at the Worldwide Campus
There is no better place to study applied science than our highly technological Worldwide Campus, which houses state-of-the-art facilities and modern labs.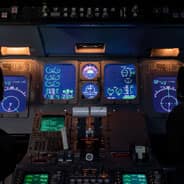 Worldwide Campus
Embry-Riddle Worldwide delivers a quality academic experience by expert faculty educators with hands-on industry experience in our three academic colleges and Online Campus. Flexible scheduling and locations close to home are specifically suited for busy working professionals, active-duty military and veterans, and students with families.
EagleVision, a virtual classroom, combines the power of web video conferencing and learning management system software to maximize the benefits of synchronous and asynchronous virtual learning environments.