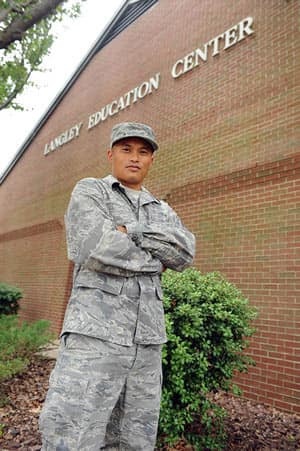 We have worked with service members since 1970. Backed by an international reputation for academic excellence and a commitment to serve you, Embry-Riddle Worldwide takes pride in our relationship with the military. 
We understand the challenge in balancing academic goals with military duties and family obligations, and we do everything possible to help you succeed.
"Embry-Riddle Worldwide has a long-standing commitment to our service men and women, both active-duty and veteran, and takes pride in being able to offer them degrees that are of the highest academic quality and that are sought after by employers in the aviation and aerospace industry," said Dr. John R. Watret, Chancellor for Embry-Riddle Aeronautical University Worldwide.
The relationship between Embry-Riddle and the military goes back to the 1920s, when the Army Air Corps taught John Paul Riddle to fly. Riddle returned the favor almost 20 years later during World War II by training thousands of Army Air Corps pilots, Naval aviators and Royal Air Force and French pilots.
In 1970, Embry-Riddle Worldwide offered its first courses at Fort Rucker and currently operates campuses on military installations around the world.
Embry-Riddle Worldwide, DOD extend memorandum of understanding
Embry-Riddle Aeronautical University — Worldwide and the U.S. Department of Defense (DOD) finalized a memorandum of understanding July 15, 2014, that authorizes the university's continued involvement in the DOD Voluntary Education Military Tuition Assistance (TA) Program. 
The five-year extension reinforces the university's ongoing commitment to provide high-quality educational programs to active-duty service members stationed in the United States.
Embry-Riddle Worldwide has a long-standing relationship with the U.S. military and currently offers instruction online and at many military locations. 
Embry-Riddle Worldwide holds contracts with the U.S. military that designate the university as the only institution allowed to offer face-to-face aviation courses to U.S. military stationed in Europe, Japan and Korea.